December 21, 22 and 23rd, 2012
Grandmother Kathy has been asked to be a part of a group designated as "wise women of Maui" to speak at an event at Blue Mountain's land in Haiku.  
December 12, 2012
Ceremony at Kukuipuka heiau with Lei'ohu Ryder.
December 12, 2012
Grandmother Sylvia now in Peru will host Children's Ceremony for the Earth and Peace with Peruvian children and Carl and Christopher, in Cuzco area, then in Machu Picchu.
December 21, 2012
Ceremony at Kukuipuka heiau with Lei'ohu Ryder.
December 21, 2012
Grandmother Sylvia will have Children's ceremony at Isla de la Luna and Isla del Sol (Island of the Moon and Island of the Sun) in the Andes in Bolivia on Lake Titicaca.
Demystifying 2012 — Celebrating from the Heart of the Planet
Invitation to the World

MAUI, OCTOBER 28-29-30, 2011

Presenters:Maui Indigenous Grandmothers, Aloha in Action, Ashtar on the Road

Theme: Diversity — Preparing for 2012

Friday opening: Haleakala at sunset

Saturday: KanahaOpening Pule: Lei'ohu Ryder

Speakers:
Ram Dass

The Voice

Alan Cohen

Lei'ohu Ryder
Workshops:
possible topics — Divine will decide what these will be
2012 and astrology
Hopi prophecy
Releasing ego, fear, negative elements — working toward ascension
Keiki — helping to help Mother Earth with Nature and energy bending
Sustainability — food security, water purification, shelter building
Balance and integration Ascension Tools
Clearings and getting toxins out of body —
chakras 2012 — 101 (basics for those just starting out)
Awakening to who you are
Raising your vibration
New Leadership — new way of doing things on the planet
Closing Drum Circle
1.5 hours each
www.MauiGrandmothers.org, 808-573-3121
info@MauiGrandmothers.org
Facebook: Grandmothers Pacifica Maui
We will be hosting an exhibit at the Ke'anae Keiki Jam Fest on Saturday, July 9th from 9:00 a.m. to 5:00 p.m. at the Ke'anae Ball Park. Grandmothers Eliza and Sylvia will be in service, reaching out to the east/Hana side community. Please join us!
We attended the Family Fun Fest by ChildShift at The Temple of Peace on Saturday, June 5. A wonderful event connecting with children of our community. Grandmother Sylvia was in attendance and in service with the opening blessing.
We were at Maui Earth Day to further connect with our Community and to make ourselves available in person (Grandmothers Kathy, Sylvia, Glenda, and Tanya) along with dedicated volunteers, our team members, to hear community issues that we might assist with, and to receive referral information for those interested in offering their services to the Community.  We teamed up at this event with Aloha in Action, founded by Lei'ohu Ryder and Maydeen Iao, in support of each other.  See them on Facebook:

Aloha in Action.

Supporting the Big Island Grandmothers:

Past Events
Click here for Grandmothers October 2010 Pamphlet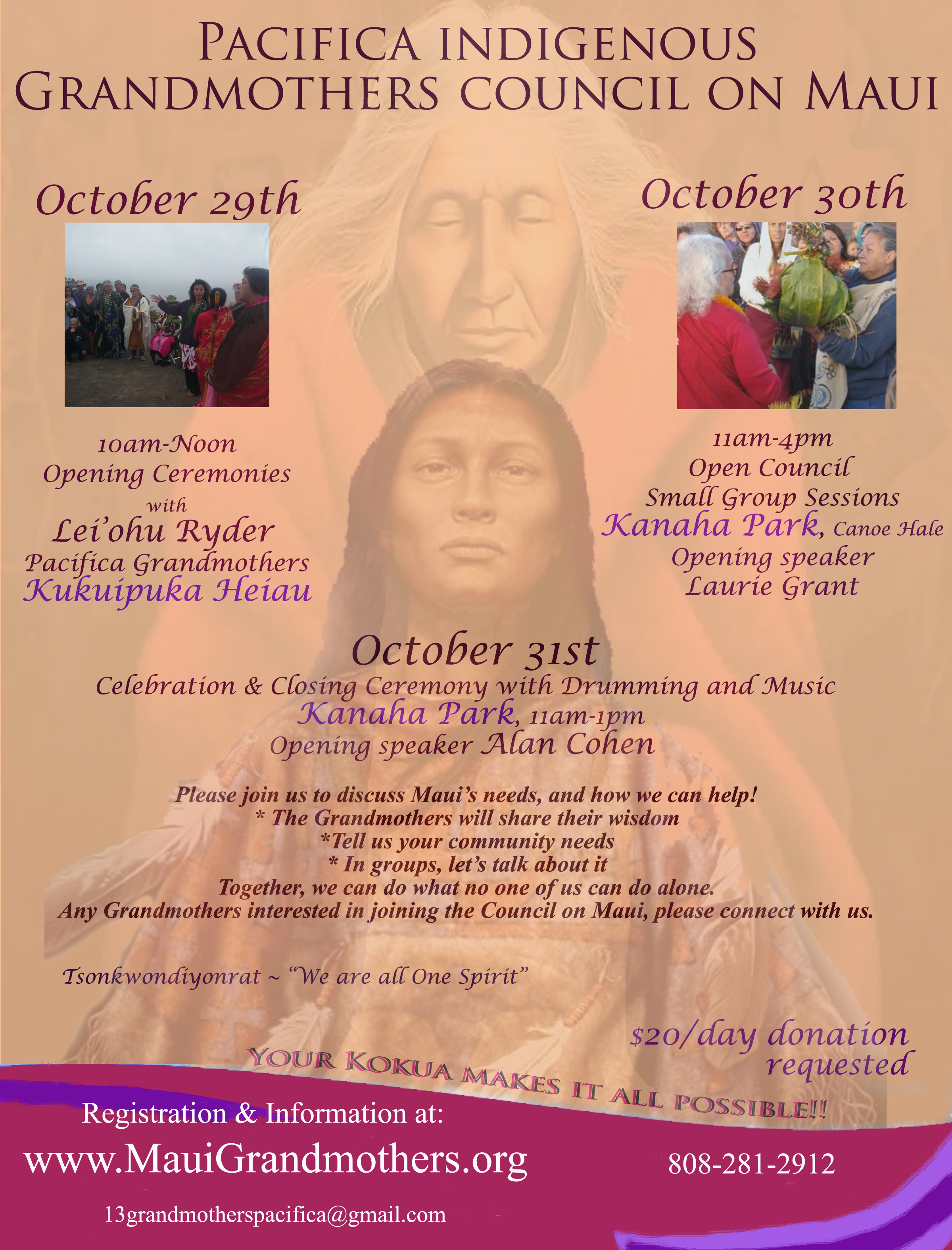 Click above thumbnail for Maui Grandmothers Flyer.