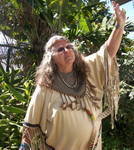 Grandmother Kathy McDuff (Kalaimoku ō ihe pua) which means malama o ka'aina or care for the land with a protective spear through flowering energy.  Her ancestors, who are listed on the Dawes Rolls of the Cherokee Nation, walked the Trail of Tears in 1838, starting in Georgia and finally settling in Oklahoma.   She began receiving visions at an early age instructing her to bring her gifts to Hawaii to assist in the ascension process.  As soon as she arrived, she felt like she was home and has been blessed with many teachings and visions from the Kupuna and spirits of Hawaii.  Her teachers and mentors include the Grandfathers, Quan Yin, Uncle Ed Lindsey, Living Buddha Master Yu Tian Jian, the Kupuna and Elders, and the Star Elders.   She and her husband Rich Lucas are setting up a healing center on Maui called Pilialoha Healing Center to assist with healing of our four bodies — mental, physical, emotional and spiritual.   She presently lives on Maui where she performs healing rituals, helps clear blocked chakras, offers intuitive guidance, and works as a Lightworker sending out light to the planetary grid and all beings.   She also assists the Kahu at Kukuipuka Heiau with blessings, prayers, teachings and ceremonies.
---
Grandmother Sylvia Cenzano's work is in bridging Earth and Spirit. Although she has Peruvian Indigenous and Mexican roots, she approaches her work by addressing the Indigenous root in us all that connects us in body and spirit, working towards Unity, in Balance and Harmony with all living things.  She has a dedication to Sustainability – of the Earth, Self, Family/Community, and of the Spirit, and a passion for working with Children/Youth. Her healing center on Maui has now grown to become an educational center as well. Her role includes providing a place where healers and educators can do their work, while moving towards sustainability on all levels – for the island, for the world.  She is steward of Kolealea Agricultural Center (www.kolealea.com), an organic farm with on-going sustainability development.  She has grown organic food most of her life, and lived with a connection to Nature inherited from her Peruvian father, and nurtured by Nature herself. She has a growing focus in answering the call to work with children/youth, in supporting their Gifts, their Heart and Spirit, their path and dedication to the work they may have come to do in this lifetime. Her latest youth projects in this area can be seen at the website: www.ChildrenHealingTheEarth.org – she hosts space for youth to gather and speak for the Earth and Peace, and to make films of their gatherings. Both films can also be seen on their Facebook page: Children Healing the Earth. Current major project can be seen at www.Malamalama.org: creating a model for community living, where all of her work and spirit paths come into one. Their is a focus for life skills, agricultural, wellness, and entrepreneurial training for single mothers and college-age youth.
---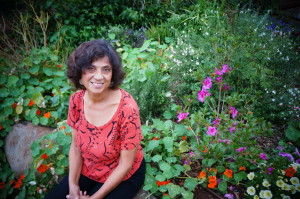 Grandmother Glenda Frederick is multi-national with a Chactow tribal background. She's been receiving messages in dreams for 40 years about the transitional times that we are currently in. This has motivated her towards environmental and political activism. She believes that it is important in these times that we all become voices for our Mother Earth. She has experience taking care of the elderly, those at the end of life, the developmentally disabled and children. She is currently caring for and teaching young children in a preschool. She can offer intuitive counseling and guidance to necessary community services. She has one daughter and three grown grand children and has been a great influence in their lives. Having lived in a large commune for sever years, she believes that in these times communal experience can be an important asset.
Lei'ohu Ryder – Advisory Council to the Grandmothers
Aunty Olive Silva – Advisory Council to the Grandmothers
Aunty Eleanor Bell – Advisory Council to the Grandmothers
---